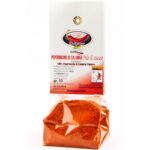 Calabrian Spicy Chili Pepper Powder
Calabrian chili powder the spice that makes the difference on any type of dish.
Do you want to buy this product? Click here
Descrizione
Chili Pepper 100% produced and grown in Calabria,
Spicy powder,traceable product with a short chain system. Our Calabrian chili is 'free of chemical additives and preservatives.

Weight:
50
g