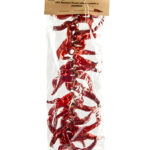 Calabrian String Peppers 50 cm
String Peppers typical of the Calabrian culinary tradition.
50cm.
Do you want to buy this product? Click here
Compara
Descrizione
Chili Pepper 100% produced and grown in Calabria, traceable product with a short chain system. Our Calabrian chili is 'free of chemical additives and preservatives.

Weight : 5
0
g